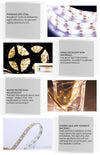 Acepunch 5 Meters LED Light Strip Adhesive Backed Flexible Lamp Tape Sensor Switch USB Powered KK1185
The resistors are arranged horizontally, which is not easy to be damaged. The lamp strip bends arbitrarily and will not damage the circuit board, and the flexibility is better.
Preferred LED lamp, LED point source forms a wide area, and the light source increases the light-emitting area (using smart chip, precision manufacturing, long life, light color, brightness, energy saving, safe integration)
USB interface design, convenient and fast, free from space impact (can be connected to mobile power, USB socket, laptop and other equipment)
Anti-dead beads design, real material, one light is not bright, does not affect other.
Easy to install, free to cut, Flexible and customizable, the shape and length can be adjusted as needed, and the cut mark is convenient. The cut Part does not leak electricity.  
Notes:
1. Due to the different monitor and light effect, the actual color of the item might be slightly different from the color showed on the pictures. 
2. Please allow 1-3cm measuring deviation due to manual  measurement.  
While there isn't a law requiring ecommerce stores to have a Return Policy, you may need one if you wish to enforce your terms and parameters of returns and refunds.

For example, in the state of New York, if a retailer does not provide a Return & Refund Policy, the retailer will be required to accept returns and give refunds for all merchandise returned within 30 days of purchase. If you wish to limit this in any way, you will need to create and post a Return Policy with your own custom terms.

Another reason for having a Return Policy even if not required by law is that most consumers prefer to shop at retailers with a clearly-posted Return Policy. This is especially important when shopping online, as more issues are likely when purchasing something without being able to see it in person first.

If you don't have a Return Policy, you may be at the mercy of state laws regulating return and refund timeframes. You may also lose potential customers who are concerned about not being able to return a product if they need or want to.
100% Money Back
Guarantee