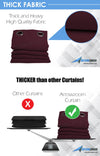 Acepunch 99.9% Black Out Soundproofing Curtain Acoustical Treatment Room Darkening Sound and Thermal Insulation KK1145
Brand New Blackout Soundproofing Curtains
Made by Imported High Quality Fabric
Acoustic Polyester Fiber
Reduce Sound Levels 
Insulate Your Home from the outside
Helps to reduce home heating and cooling costs
Blocks Out 99.9% of the Light and harmful UV rays to Any Room Anytime of the Day
Reduction of the reverberation of sound in the room, for a cosy, warm atmosphere
Heavy fabric that provides a lovely and elegant hanging effect.
MULTI-FUNCTION - Use it in Home Theaters, Studios or Gaming Room for acoustic treatment / Isolation Shield , or in offices as a Desk Privacy Panel
COST-EFFECTIVE - appealing yet effective soundproofing curtain at cost-effective prices.
Improves vocal clarity and acoustics of your room
Ideal for use in recording studios, home theaters 

and karaoke room

4 Colors Available: Brown, Burgundy, Purple, and Gray
4 Sizes Available:

1.3 X 1.8 M ( 51.2 X 90.9 in) 

1.3 X 2.7 M (51.2 X 106.3 in) 

1.5 X 2.0 M (59.0 X 78.7 in) 

1.5 X 2.7 M (59.0 X 106.3 in)

For Custom Size email at

service@arrowzoom.com 

NOTE:

Each order contains 1 Piece of Curtain

Actual color may slightly differ depends on monitor settings.

We may split your order into multiple shipments for postage.
Whether you're looking for blackout curtains for a bedroom, media room or other space where you need to block out light, you still want them to look great. Luckily we have more elegant options than ever, in a wide range of fabrics and colors. 
This Blackout Curtain is made with High Quality Imported Heavy Fabric. 
Blackout curtains, shades and blinds all reduce energy costs by cutting the amount of sunlight and UV rays that enters the room. In addition, they protect furniture and floors from sun damage and fading, which makes these high-cost products more durable.
Benefits of Blackout Soundproofing Curtain
Blocks 99.9% of Sunlight - The biggest benefit of blackout curtains is their ability to block light from entering a room. This is important for young children and people who work overnight shifts. Sleeping during the day can be difficult because of the sunlight; however, blackout curtains state that they can stop up to 99% of sunlight from entering into a room. People who work overnight shifts are at risk for health problems due to their irregular sleeping habits. Switching to blackout curtains in your bedroom will reduce health risk by creating an ambiance of night. Alternatively, blackout curtains are ideal for creating complete darkness that you desire in your TV/movie room. They will block out any light that might ruin your home theater movie night. It's important when purchasing your blackout curtains that you make sure they are big enough, so they can fully cover your window from top to bottom.
Helps to reduce home heating and cooling costs - Another benefit of blackout curtains is their ability to reduce your energy costs. In most homes, 10-25% of thermal energy loss is from windows. However, with blackout curtains, your energy bill could be reduced up to 25%. During the winter, blackout curtains will help keep the heat in the room. While in summer, they have the ability to reflect heat out of the room. Both circumstances ensure that you are saving money on your energy expenses.
Reduce Sound Levels - 

The blackout curtain can reduce the amount of noise that enters the room through the window, and any noise that still comes through is muffled and considerably quieter. So, when your neighbors are going about their daily chores, mowing lawns and generally being noisy, you can block them out and be left to enjoy your peaceful sleep.
Why hire a Professional if you can construct a soundproof room in your house yourself!.
For the very best quality, most complete soundproofing you just need this Soundproofing Curtain! Buy these Blackout Soundproofing Curtain now and have a perfect room to party!
Auditoriums • Broadcast Studios • Computer Rooms • Equipment Enclosures • Equipment Rooms • Gymnasiums • Gun Ranges • Home Recording Studios • Home Theaters • Industrial Facilities • Professional Theaters • Professional Recording Studios • Warehousing Facilities 
General Installation Tips
Blackout curtains are installed in the same way as standard curtains and drapes. To get the most out of the room-darkening qualities, measure a couple of inches beyond the window frame on all sides. Using wraparound rods (which bring the drapes all the way around to the wall) is another way to guarantee the most light will be blocked.
While there isn't a law requiring ecommerce stores to have a Return Policy, you may need one if you wish to enforce your terms and parameters of returns and refunds.

For example, in the state of New York, if a retailer does not provide a Return & Refund Policy, the retailer will be required to accept returns and give refunds for all merchandise returned within 30 days of purchase. If you wish to limit this in any way, you will need to create and post a Return Policy with your own custom terms.

Another reason for having a Return Policy even if not required by law is that most consumers prefer to shop at retailers with a clearly-posted Return Policy. This is especially important when shopping online, as more issues are likely when purchasing something without being able to see it in person first.

If you don't have a Return Policy, you may be at the mercy of state laws regulating return and refund timeframes. You may also lose potential customers who are concerned about not being able to return a product if they need or want to.
100% Money Back
Guarantee